Are you concerned about plumbing leaks? These types of leaks can come from a variety of sources: pools, cracks in concrete slabs, improperly installed piping, sewer lines, and much more. No matter what type of leak you are dealing with it is vital that you consult with a plumbing leak specialist to determine a course of action to remedy the problem with minimal disruption to your property.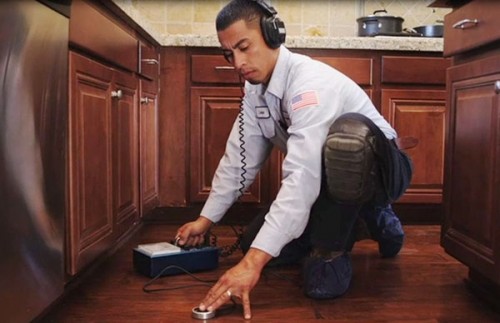 As the leading leak detection service in Oxnard, you can count on Oxnard Plumbing and Rooter Pros to connect you with certified, leak detection contractors that have years of experience and the proper tools to find these mysterious leaks quickly.
State-of-the-Art Equipment Lends a Helping Hand
In the past, technology wasn't as readily available to help plumbing contractors find leaks without ripping up yards and tearing up concrete and flooring in homes. The method of finding a below ground leak basically consisted of searching and digging until a technician was able to find the problem. Not only did this create a mess for the customer, but it was rather costly and not a quick job.
Today, leak detection specialists use electromagnetic equipment and infrared locating devices to find pipelines and locate hot spots. This makes it possible for contractors to pinpoint the exact location of a leak without unnecessary destruction to property.
Qualified Contractors Offer Practical Solutions
If a leak is detected underneath the floor of your finished basement, the newest methods of leak detection make it possible to remove only the material around the leak to make the repair. The contractors that we work with take their role as your no-mess, leak detection specialists seriously. You will never have to worry about added mess or cost when you work with Oxnard Plumbing and Rooter Pros.
Our leak detection isn't only limited to slab leaks. We service water heater and gas leaks, too!
We have contractors available 24 hours a day, seven days a week. These professionals are the best in the business. They eat, sleep, and breathe slab leak detection. To find a certified, leak detection contractor in Oxnard, California, give us a call today. We'll put you in touch with one of our top-notch professionals immediately!