2 Kinds of Toilet Leak Repair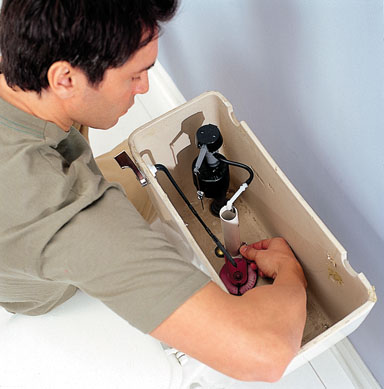 Do you need help fixing a running toilet? Is you toilet consistently clogged and hard to flush? There are a few reasons why you may need toilet repair. Sometimes it is as simple as changing out the flushing mechanism, while other times it may require replacing a faulty seal. The good news is that rarely does toilet repair mean you have to replace your toilet. Only cracked commodes need to be replaced.
Here are two of the most common reasons we're called for toilet repair service.
Worn or Broken Interior Parts
A toilet is one of those plumbing components like faucets and sink drains that are used continuously throughout the day. With that amount of wear and tear, it's not a huge surprise that interior parts can become stressed and break. When the toilet's flapper isn't working correctly, you may notice that the toilet runs nonstop or flushes intermittently even when not in use.
Replacing interior parts is simple and takes no time at all. Savvy DIYers can visit their local home improvement store to buy replacement parts. If you're not handy or don't want to bother, give a plumber a call to help you out.
Leaky Toilet Seals
Older toilets or those installed incorrectly may develop leaks at the base of the commode. This problem is usually caused by a worn toilet seal. When this seal isn't replaced, it can lead to rotting floor boards and expensive restoration repairs. Replacing a toilet seal isn't something for the average homeowner to attempt. It's better to call an experienced plumber to assist you with this toilet repair.
When you need toilet leak repair in Oxnard, call local, trusted plumbers for affordable service. At Oxnard Plumbing and Rooter Pros, we're always here for you not matter what the job may be.